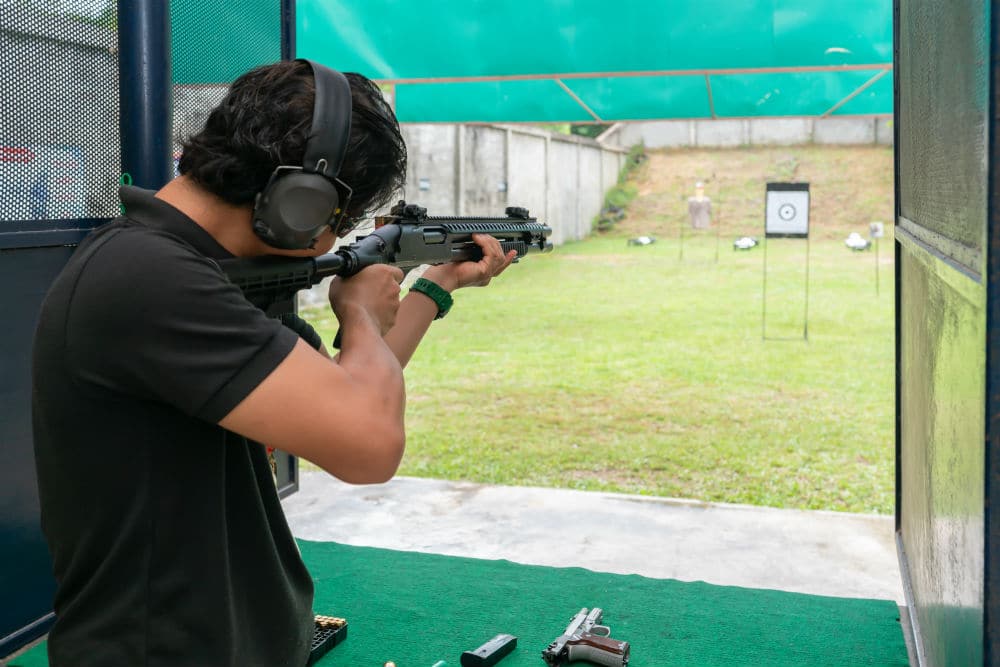 ​3M Peltor Junior Earmuff, Black: QUICK OVERVIEW
​To prevent leisure or occupational hearing loss due to overexposure to loud sound over time can be prevented with the use of earmuffs. These are headgear that is thick enough to cover your ears so that no sound over 85 decibels, the maximum decibel our hearing can take, can penetrate your ears.
​3M Peltor Junior Earmuff, Black Review
​Earmuffs can greatly protect your ears in the long run. For a price less than 20 bucks, you'll be able to get quality muffs that will last you years. Muffs, as commonly believed by many, shouldn't be considered as an accessory, but rather a huge part of your gear whether you're going hunting or shooting, or doing chores at home.

A high quality yet very affordable earmuff that you can rely on is the 3M Peltor Junior Earmuff, Black. These are really affordable yet sturdy built.
​What are the important aspects of the 3M Peltor Junior Earmuff, Black?
​Type:
These muffs are passive muffs that are designed for comfort, fit, and performance, no matter what the age. When worn, the child will barely hear anything or none at all.
This can be helpful if you're taking the child with you to the racetrack or game where the crowd can be really noisy or when he has to watch you do your daily chores at home involving the lawnmower or grass cutter.

If you intend to use it for your child, there's no need to spend on a lot as long as the child finds that his ears are protected and that it is comfortable. You don't really have to buy ones that are electronic because he might not need amplified hearing. A solid set of earmuffs may just be the only thing you need to protect your child's hearing.
Comfort:
These muffs are designed and sized for youth and smaller adults so you won't have any problems with it falling off or being too tight when worn. Each of the muffs is covered with liquid- and gel-filled cushions so each ear will be encased in a comfortable muff, which is good for extended wear.
The muffs also feature an adjustable headband so that parents can easily adjust the height of the muff for a tight, secure fit. For a fashionable wear, these muffs come in three colors: Black, blue, and pink.
Noise Reduction Rating (NRR):
The 3M Peltor Junion Earmuff has a noise reduction rating of 22 dB, which is enough to cover household or external noise. It can safely cancel out the loud cheers and jeers of a crowd, as well as most machinery and loud electronics that you operate at home. If you intend to take your child to a shooting or hunting event, this NRR might not be enough as gunshots go way past the acceptable 85 decibels.

For instance, a gunshot noise can go up to 160 decibels. Doing simple math, the 22 dB NRR subtracted to the gunshot decibel is still very high and still past the acceptable noise threshold.
For this, you may choose to have additional protection for your child such as making them wear earplugs underneath the muff. Or you opt to choose muffs with higher NRR; it typically goes up to 35 decibels.
Material:
Each muff is made of sturdy plastic which encases the thick cushions filled with liquid or gel to effectively block the noise and to provide comfort during prolonged wear. The band is made of soft leatherette so that the child won't feel pressure on the top of his head.
The sides feature an adjustable steel band. These muffs only weigh four ounces, so you don't have to worry about it being too heavy for your baby or toddler.
​What other things should you know about the 3M Peltor Junior Earmuff, Black?
​There's a bit of a size issue here; while some parents agree that these muffs can fit kids of all ages and even adults with smaller-sized head, some complained that these could only fit babies and toddlers. These might be some source of an argument so it's better to test these muffs first, if you can, before purchasing it.
If you find that these muffs can fit you, then you're lucky, as these muffs will last a long time before your kid grows out of them. It's also very sturdy, so you'll have it handy for years.
It also poses no problems when worn by babies and toddlers who are all over the place because they'll find it too comfortable; that they forget it's even there. Some parents who wrote their reviews said that they have to remind their children to take their muffs off because they forget it's on.
At first, you might find that they are too snug and tight but they will feel more comfortable after the first couple of wears.
​The Verdict
These muffs are really great for your children who often goes to sports event, shooting ranges, or hunting gatherings with you. But of course, you can use this whenever your kid is around when you do loud chores like mowing, grass cutting, or doing DIY projects at home.
Muffs like the 3M Peltor Junior aren't that expensive at all so you shouldn't hold this back from your child who is exposed to high levels of noise, which can really damage their hearing in the long run.
Don't forget to also read our article on the "​​What are the best Shooting Ear Protections?".